Units 15-16
Ford Lane Business Park
Ford Lane
BN18 0UZ
Portable electromagnetic non-destructive steel reinforcement detection system
More info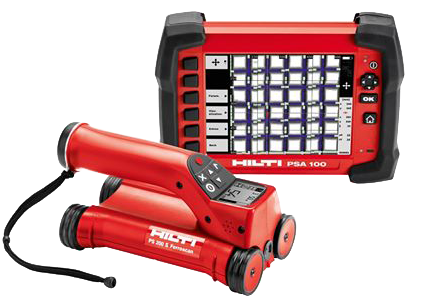 Hire or Buy Today! Call 01243 555 720
Overview
Verification of reinforcement: locate rebar when plans are missing, for acceptance inspections, before structural repair or change of loads on a structure.
Verification of concrete cover over reinforcement: obtain concrete cover information over large areas for acceptance inspections, before renovation or for quality control.
Avoid hitting rebars: avoid cutting through critical reinforcement or costly rebar hits.
Features
Immediate high resolution image for a clear picture of the reinforcement
Determine bar depth and estimate diameter
Determine average concrete cover over large areas easily
Reduce wear on drill/core bits and tool motors when drilling through reinforcement
Reduce drilling times – important in repetitive drilling applications
Avoid potentially disastrous and costly hits on critical reinforcement
Cableless connection between monitor and scanner. No cable to snag or hinder your movement
Hammond Concrete Services are pleased to stock the Hilti Ferroscan PS200, the Hilti Ferroscan PS250 and the Hilti PS1000 X-Scan radar detection system.
Not sure about something? Email or phone us and we can help you out.
Applications
- Scanner memory capacity Up to 9 Imagescans plus up to 30 meters of recorded Quickscans
- Monitor memory capacity / type At least 150 Imagescans or 75 Quickscans plus up to 15 min. of voice recording (32 MB)
- Battery life 8 hours on average
- Protection class IP 54 in accordance with IEC 529
- Operating temperature range -10ºC to +50ºC
- Dimensions / weight of scanner 26031323132 mm /1.4 kg
- Dimensions / weight of monitor 2643152357 mm /1.4 kg
- Minimum system requirements Microsoft Windows 2000, XP, at least 50 MB free hard disk space, CD-ROM drive, for PC software USB V1.1 interface